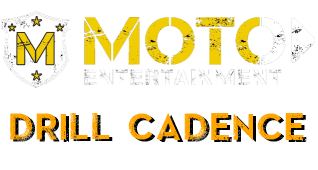 We use PayPal to process payments. To purchase your Drill Cadence download:
1. Please click on the button below. Once you make your payment, a confirmation from PayPal will pop up on your screen.
2. From the PayPal confirmation page, click on "RETURN TO MERCHANT" and you will be automatically forwarded to the Drill Cadence download page.
3. Please note that the download file is a ZIP file. Some mobile phones may be unable to download the ZIP file. If you have problems with the download, we can also email you a copy of the ZIP file, so please provide the correct email address in your PayPal order!
Please contact us at info@motoent.com if you encounter any difficulties with the download.
MOTO ENTERTAINMENT AND SSGT NICHOLS ARE REGISTERED TRADEMARKS OF MOTO ENTERTAINMENT INC. ALL RIGHTS RESERVED.